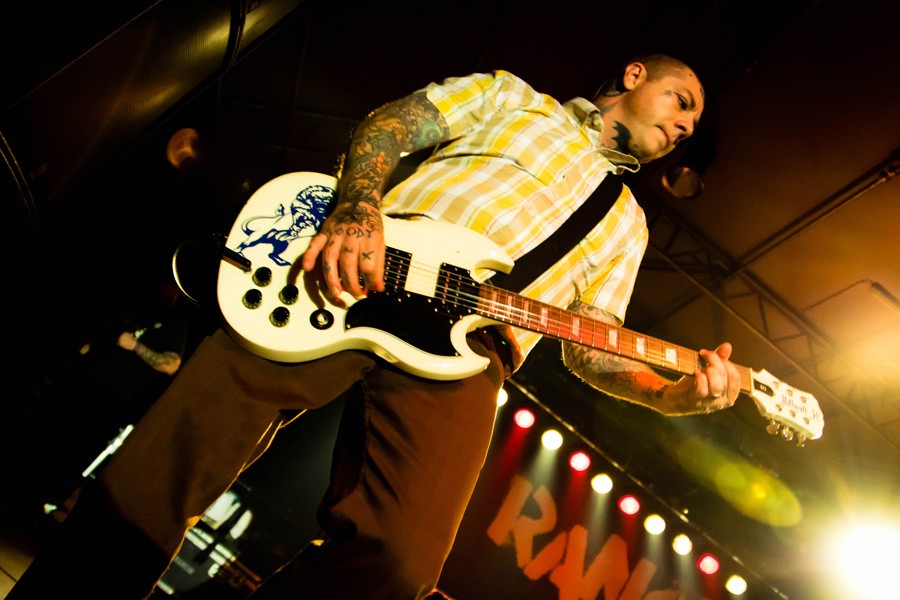 Lars Frederiksen speaks to Pressure Magazine about the new songs with The Old Firm Casuals and his personal history in and beyond the band.
"The Old Firm Casuals" is a American Oi! band from San Francisco, Ca. around Rancid-member Lars Frederiksen (Guitar & Vocals). Old Firm Casuals have released a new tune called "Wartime Rock N' Roll" It's off the upcoming 12-inch EP of the same name out via Rebellion Records.
Hi Lars, please introduce yourself and The Old Firm Casuals to our readers.
A: Lars Frederiksen – guitar and vocals, Casey Watson- Bass and vocals, Gabe Gavriloff-Lead Guitar and vocals Paul Rivas- Drums and vocals. Unfortunately I can't really remember any one particular time where I've been surprised or whatever but, over the last 25 years or so that I've been touring over there I've personally had some of the best times of my life with some of the greatest people.
After the successful journey with The Old Firm Casuals youbprobably received tons of good critics. Please tell us about the reactions or reaction you still have in mind?
A: well I really don't pay attention to critics good or bad. We are grateful that we have a little bit of an audience who will listen to us. if you like the music cool and if you don't it doesn't bother me in the least. We are gonna make music that we are proud of and enjoy since that's what it's all about.
Now you are back with your brand-new album "Wartime Rock´n´Roll". Point out your most beloved top three songs on the new album and tell us what is the story behind them?
A: they are all songs I'm really proud of so it's hard to pick out any particular one. Hell's a lot better is one that I'm extremely proud of though I will say. I dont think anyone could've sang it like Casey. Something about his voice that takes this song to a whole different level in the best possible way. He owns it. gabe puts on the slide guitar and the song comes alive. I think we have been playing and recording with each other now for a while that the song just clicks. It's very Rose Tattoo style as well and you can't really go wrong with that.
What makes this release special for you this time?
A: I think we as a band are coming into our own. I think the songs are easily the best we've done so far. I think we can do a lot of things that we couldn't have done if we didn't add Gabe into the mix. Our sound with adding an extra guitar player became fuller and the songwriting was able to grow with his addition. We all love the same types of music so we connect on that level. Doing it on "Rebellion" also made it special because I love the label and Wouter is such a great dude to work with. I told him the idea and he loved it and went out and made it happen.
I heard you have also planned to release a limited 12″-Vinyl version. What means Vinyl to you personally, and what kind of role has it nowadays?
A: vinyl is the best way to listen to music in my opinion. Im a vinyl collector so I will always make sure there's a version on wax.
Do you personally have an acount for streaming services such as Spotify, itunes etc? What is your opinion on this and howdoes ist influence the music business or even how people getin touch with music?
A: I do have an iTunes because I wanna listen to music in my car. The radio is shit so why bother. I am proud to say I've pretty much paid or tried to pay for every piece of music I own. Don't get me wrong I've been given a ton of freebies in my lifetime, but I've never stolen music ever. And yes I believe you are are stealing music if you're not paying for it or someone from the band isn't giving it to you. If you don't think you're stealing it you're probably an entitled fucking rich kid. As far as I'm concerned, if the band is gonna put their heart and soul into something, I can shell out the 10-20 bucks to support the music I love and grew up on.
What music do you listen to and which bands have inspired you while working on your own songs?
A: there's so many to be honest but a few that are on top of my head are The last resort, STOMPER 98, the Templars, rose tattoo, AC/DC, Slade, Motorhead, GBH, the business, agnostic Front, there's just too many to name.
What kind of hobbies do you have in your spare time and how much of them are left beside travelling with the bands?
A: my kids are my everything now so they come first. I'm a family man who has changed everything, but I'm OK with that. I've been able to keep my hobbies and actually share them with my boys. I love to read, collect records, comic books. We go to a lot of sporting events and support our favorite teams. My boys are both starting to collect vinyl now. It's a trip.
Lars, you are running a tattoo shop in New York City as far as I know. What was your first tattoo, and what were the reasons for getting it under your skin?
A: To be different from the people in society, plain and simple. Obviously, now it's a little different since every walk of life has them. To this day I am judged by people and to be honest, that's why I got tattoos. Basically a fuck you to them and to the society in which I was raised. I've never looked for acceptance or anything from anyone.
What kind of motives do your customers often request?
A: I'm not a tattooer. I'm a musician that can do one thing. Chicken scratch lettering. I can't draw to save my life.
What kind of tattoo motives would you never tattoo, and what was the weirdest story in the tattoo shop?
A: I won't tattoo anyone's neck or hands. Number one it's super hard and I know cause I've tried. I've had some strange requests but it was always after the tattoo was given. I'm a married man so I never took em up on their offer
It seems the NYHC Tattoo Studio in New York is just one block away from Bowery Street, where the old punk rock club CBGB made rock history. What are your thoughts on the CBGB and the punk rock or subcultural scene in your city?
A: NYHC tattoo is still one of the best shops in New York to get tattooed at. I used to be part owner in it but am no longer. I grew up in California so it wasn't until way later that I went to CBGB's. It had it's importance for the original punk scene and of course the Hardcore scene. So many great bands played their and I would say 90% of those bands had a direct impact on my life at some point.
And what has changed most over the last -let's say- 30 years?
A: too much to be specific but the one thing that I can be specific on is The internet. It made some things better and most things worse Hahahaha. There's No more mystery and has ruined so much of the culture. But on the other hand it's easier to find porn
Are there any plans to play also in Germany?
A: nothing planned at this point to tour Germany. We just play hard and enjoy ourselves while we are doing it. We are lucky to go halfway across the world to play music.
Who decide which bands you play with on tour?
A: We always choose the bands we play with.
Are there any bands from Germany that you know well and like to listen to?
A: Not that I know them all personally but Stomper 98 (even tho I play guitar for them now) Emscherkurve 77, Krawallbrueder, Toxpack, Aggressive, Volksturm to name a few.
Thank you very much for your time. I really appreciate it. Any last words for your fans?
A: danke
Interview with Marcus Liprecht on 8th June 2017